Sumatra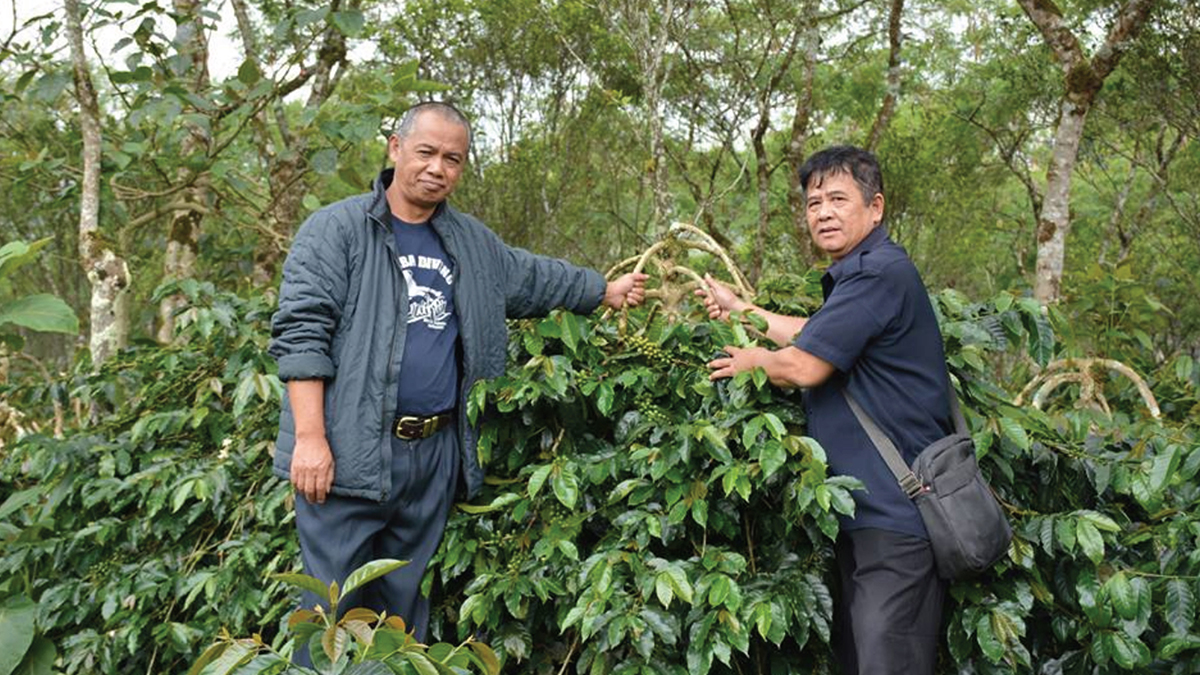 Hassan and Saleh, farmers of Permata Gayo, with their coffee trees.
ORIGIN:
Bener Meriah district, Aceh, Sumatra

Cooperative: Permata Gayo
Elevation: 1200-1600 meters
Varietals Grown: Ateng (Aceh Tengah) Julek, Linie S., Bor Bor
Harvest: October-June
PROFILE:
Earthy, red wine, leather, blackberry, dark chocolate, complex
Best brewing: immersion
Recommended ratio: 15:1
Acidity:  low
Body: full

In 2015 and 2016, HG purchased special lots of Sumatra "Silk" from Permata Gayo. These small lots represent a special project undertaken by a small handful of farmers from within the cooperative, who decided to experiment with an extra 12-hour soak in the fermentation stage of processing in hopes of increasing complexity. We have been quite happy with the quality of these special small lots and hope to continue our support of experimental techniques within Permata Gayo while still purchasing large quantities of their standard offering for our signature line of coffees.
Rising abruptly from the coastal plains of Sumatra's northernmost province, the mountains of Aceh Tengah (Central Aceh) are the historical home to the Gayonese people. The ideal growing conditions of this region have supported the long history and unique quality reputation of "Gayo Mountain" coffee.
Most coffee grown in this area has followed a similar, traditional route: the farmer sells his coffee cherry to "collectors" at the going street price – who in turn de-pulp,  ferment overnight, and briefly wash the coffee to get what they call "Gabah" (wet parchment). "Collectors" dry wet parchment down to 40% moisture content (they name it "Labu") and wet hull the parchment. This is very characteristic of this region to hull wet parchment and it gives a very unique blue-green colour to the green beans which are exposed to sun all along the drying process (wet hulled process). Green coffee is dried by "collectors" down to 20% moisture content (they name it Asalan). They then sell it to their cooperative that trucks the coffee down the mountain to the southern province of North Sumatra. Final processing occurs in the cooperative's dry mill in the coastal city of Medan, before shipping it out of the port at Belewan.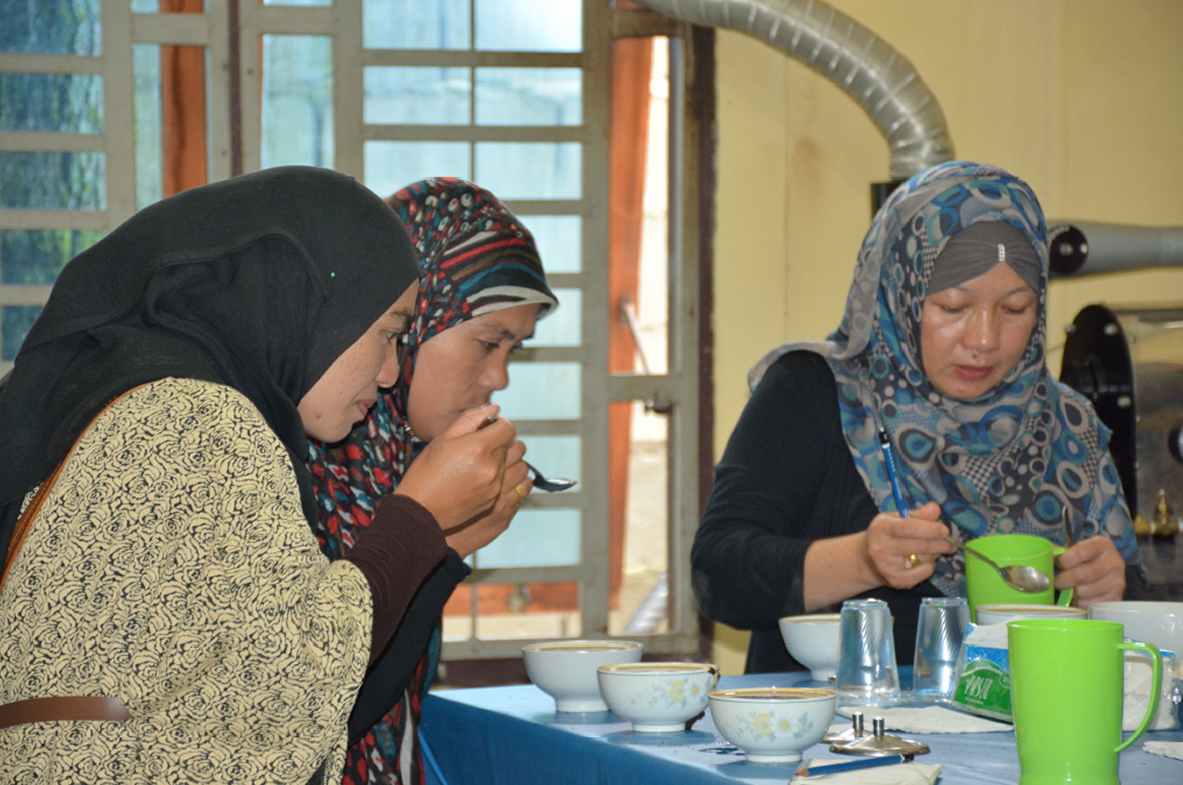 Rizkani, head cupper at the Permata Gayo lab, with other cooperative members.
Permata Gayo was founded in 2006 in the Bener Meriah district of the Aceh Province, with the intention of guaranteeing more traceability along this long journey from Aceh to the port of Belawan. In bringing the full process from farmer to final export under one roof, Permata Gayo is able to regain more control over each step of the way to improve quality, communications and direct sales, and to achieve their ultimate objective – sharing a bigger portion of the final price back to the farmers themselves.
During these last several years, we have seen incredible strides forward by members and staff to strengthen their internal structures and continually improve their quality control. Cooperative Coffees began importing coffee from Permata in 2009. With 36 villages and distinct processing centers, it is a constant challenge to maintain consistency. However, during our annual visits to Sumatra, we have seen well-equipped facilities, clean fermentation tanks, well- calibrated de-pulping machines, expanded drying patios, and a marked improvement in the attention given to coffee processing each step along the way: from cherry collection to final sorting and lot selection. Permata Gayo farmers are well informed about market expectations and are proud to know where their coffee is sold and of roaster and customer appreciation of their efforts.